Another great thing Korean fashion has is its amazing hair pieces. No matter what the age, women always have some sort of shimmer and sparkle in their hair when they leave the house. Whether its shiny curls, or a huge bobble, Korean fashion always is from HEAD-to-TOE.
So since we did the heels post on Sat, i figured i should skip to the polar opposite and speak about their hair pieces next.
Extensions, bangs, hair bobbles, hair bands, clip ins.. etc etc.
Here are some of the things that struck me as interesting.
Fake bangs
Korean Girls love the bangs look. They mostly have super sleek straight cut bangs that look like they have been cut with a sharp blade. Super chic.
And just when i started to really get impressed, my Korean friend laughs her head off at me and tell me they are all mostly fake.
They buy clip ins and use them to change up their look at their whims. How awesome is that?
Pretty Hairbands
Hairbands are no longer for 5 year olds. The hairbands spice up simple hair dos.
Bedazzled Hairclips
Hairclips are all the rage in Korea too! Hairclips jazz up Any style and haircut.
Bedazzled Hairbands
These hairbands are great!! I bought myself 2 before i got home! :) They hold on like a normal hairband but the band itself is thin that it isnt too visible. The design looks like a clip in but its supported by the band.
Amazing for those dancing nights out ;)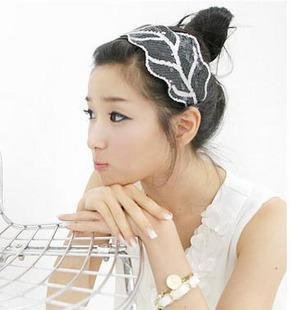 So ladies, take a cue from the Koreans and dress your Hair UP! I know i will ;)