I was driving with a friend in the car the other day and he looks at my leg and says "why so dry?" and i blush.
Ever heard the expression:
Be faithful in small things because it is in them that your strength lies.
-
Mother Teresa
Well i know she wasn't exactly talking about Beauty or Fashion. But the core message still applies to almost everything. :)
So here is a list of 5 things that can be done under 5
mins
(actually much, much less than 5
mins
) that will make all the difference to your body if you do them.
1. Moisturize your skin
When you jump out of the shower, slather on some moisturizer. We normally only think of moisturizing our face but forget about the rest of our body. By putting on some lotion right after a shower, the water in your skin is sealed in giving it a double moisture effect :)
Time taken : Less than 2 mins
2. Apply some baby oil to your hair
The world often wonders why Indians have such thick glossy hair. No we don't go for Repair Treatment. We just love our oil.
Forget extensive Saloon Treatment Repairs, just apply some baby oil or olive oil to your hair on the weekend. Leave it on for less than an hour to completely soak and then wash off.
Make sure you don't oil your scalp too heavily though. You don't need the extra oil on your scalp but your hair itself doesn't secrete oil like your scalp does so make sure you give it some love :)
Time taken : Squirt, rub in palms and apply. Less then 1 min (but leave in and wash off approx: an hour)
3. Exfoliate your lips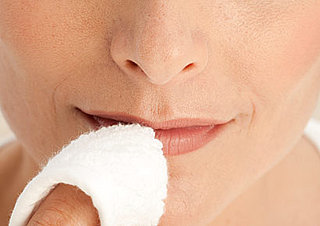 Use a gentle cloth and rub your lips to effectively exfoliate the dead skin off your lips. By removing the dead skin on your lips, lip gloss and lipstick slide on better. (And so do the Current Mr Hottie's Lips ;) Its such a terrible sight to see lip stick painted on lips that are dry and chapped.
Chapped lips are a sign of a lack of care. Your puckers are very important Ladies. I don't think i have to emphasize much more.
Apply some Vaseline right before you go to bed and you will wake up each morning with a ready to go, kissable pout.
Time taken : 3 mins
4. Paint on some
strengthening nail polish
Who wouldn't want strong pretty nails? But the most common problem ladies seem to face is dry brittle nails. When you get a manicure or DIY paint weak nails, chances are, within the first few days, at least one nail would have broken. What is the point right?
Paint on some Strengthening Nail Polish as an undercoat or just leave it alone for some natural shine on your nails. Get one that is closest to your skin colour or just clear. This way, you need not worry about smudges.
Glossy Nails are an instant Glam Booster.
Time taken: 4 mins
5. Clean up the eyebrows
I know most of us just wait for maybe 2 weeks and then walk into our nearby saloon to get a fix on our eyebrows. But really, its just kinda funny looking to see the signs of a perfectly arched brow and then some little hairs sticking our in funny places. ;)
Use a
tweezer
and just pluck out the tiny hairs growing. This way, you'll be able to forgo the Saloon for a while longer while still looking polished and neat.
CAUTION: DO not go wild with the tweezers. Just pluck out the stray hairs. Do not alter the shape of your brow if you are not used to plucking your own brows. Trust me, the effect is never the same.
Time Taken : 3 mins
So there you go. 5 things that take less then 5
mins
that, if done, make all the difference ;)